DNS System Audit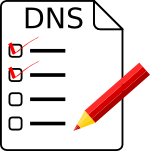 DNS is a very complex, interacting, interconnecting system with many, many parts. Our DNS server audit service is a thorough 97-point checklist review of your DNS ecosystem, resulting in a detailed report with consultation time to explain the results. This includes checks such as the following plus many more:
standard Unix operating system audit for the OS setup
local DNS resolver and client testing
local DNS server configuration review
local DNS protocol testing
remote DNS protocol testing (from 3 networks)
local zone review and testing
remote zone testing (from 3 networks)
transfer configurations review and testing
DNSSEC keys and signatures check
remote DNSSEC validation testing
hardware, network interfaces, network, and firewall setup (as can be seen via normal local research). This service does not audit those things in detail, but provides a localized and external review.
review configurations and security setup for control channel and control tools
root hint zone check including DNSSEC key(s)
testing outbound queries
secure behavior testing
security vulnerability testing
configuration suggestions
monitoring snapshots
performance snapshots
heavy users report
most popular lookups report
review and test (if applicable) ACLs
various best operating practices checks
packet sizing and extended DNS checks
random ID checks for the system stub resolver and for the server itself
DNS server crash tests and penetration testing
and a lot more ...
The report will provide explanations about problems it finds with references, as applicable, to standards that define best practices for that behavior.
The DNS System Audit service may be done for a single server to many servers. The standard service, for a single server, is a four business day delivery. This will also include monitoring and performance snapshots over a two day period.
The standard service includes login work and the auditor will need login access and browse and read permissions as applicable to research the system environment. If this login service is not desired, please contact us to discuss providing files and details, as an alternative audit service.
Note: At the time, the operating system review and login-based audit is for standard Unix-like systems, includng *BSD and Linux. For other systems, please contact us for alternate testing.